The Burj Khalifa - The World's Tallest Building
by Andrew J. Bevan, QHP, DMS Astrol. (c) 2010
The Burj Khalifa'
The World's Tallest Building 'The Burj Khalifa' was officially opened in Dubai 4 January 2010. The building that has 160 floors stretches 828 or half a mile up above the Earth's surface. Location 25N12 55E16. The inauguration ceremony that started at 16.00 GMT was attended by Sheikh Mohammed bin Rashid al-MaktoumMohammed bin Rashid al-Maktoum, the vice president and prime minister of the UAE and Ruler of Dubai.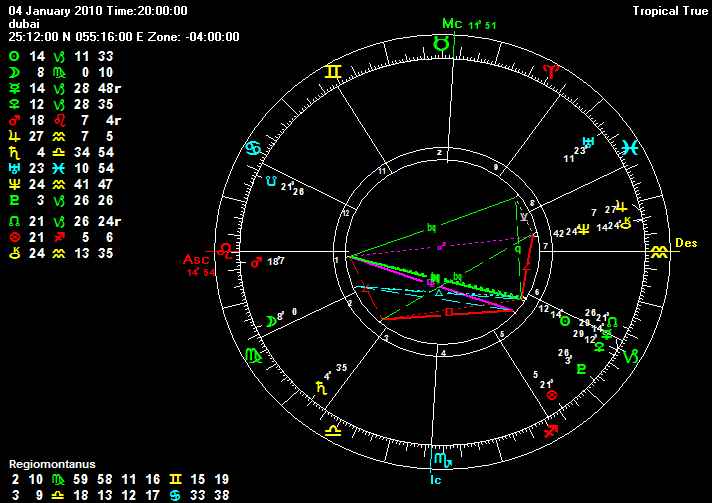 Dubaicityguide.com

: The world's tallest tower, developed by Emaar Properties, was unveiled last night to a crowd of thousands and the world in a crescendo of fireworks, lasers and fountain displays. The official height of the tower, unveiled as 'Burj Khalifa', was announced as 828 metres (2,716.5 ft). A closely guarded secret, the official height of Burj Khalifa was flashed onto a giant screen before an estimated crowd of more than 400,000, as lasers and fireworks lit up the night sky.
The exact height of the building was a safely guarded secret until the figure was made public during the ceremony. It is possible a slightly later time should be chosen for the moment when the building revealed its secrets and true identity. Mars, Lord of the 4th house of buildings, was rising in the Royal fixed sign Leo at 20.15 Local time.
Watch the Cermony:

Businessinside

r


Background:

Wikipedia

,

BBC News