After Chile was hit by an 8,8 Richter earthquake on 27 February 2010 astrologer Andrew Bevan of Norway related the event to the 7,0 Richter earthquake that hit Haiti on 12 January 2010 with reference to time sequences he was observing in the years 1988-1990. Andrew Bevan is credited for accurately predicting the largest earthquake hitting Norway for 50 years of the size 5,3 on the Richter scale to the exact date 23 January 1989. He is credited for calculating the earthquake that hit San Francisco on 18 October 1989, 7,3 Richter. In 1990 he warned the 7,6 Richter sized earthquake that hit Iran on 20 June 1990 two days in advance, an earthquake that killed 47.000 people. In 2003 he issued a warning for the Sumatra area on Radio P4 Norway that was to be realized 12 months later with the tsunami-quake of 26 December 2004.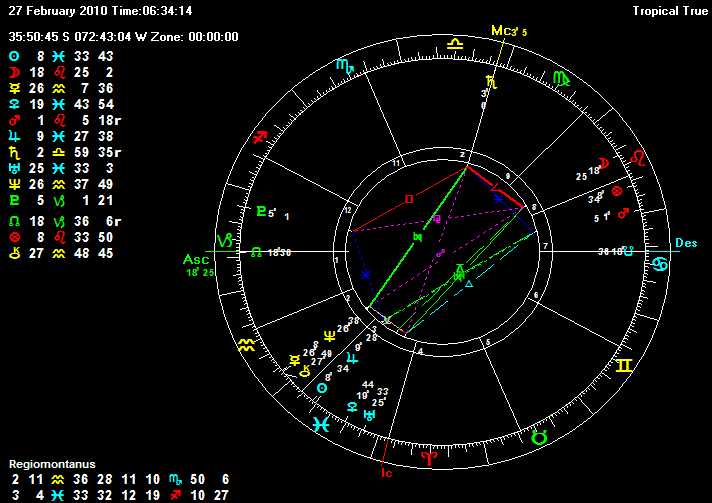 Afterquakes correctly pin-pointed +/- 40 minutes
On the same day as the 8,8 Richter earthquake shook Chile on 27 February 2010 Andrew Bevan used his experience and calculated the potential for powerful aftershocks up to 5 March 2010. He explains how the aftershocks at this point in time may be expected to have an increased intensity and likely to occur at approximately 10-11 a.m. GMT.
After the first major quake struck at 06.34 GMT on 27 February 2010 there occurred no less than 35 aftershocks in the area that measured 5,5 Richer or more. As Andrew Bevan predicted there did occur an earthquake of increased intensity on 5 March - in fact, not one but two!! The first one measured 6,3 Richter at 09.19 GMT. The second one was larger still and measured 6,6 Richter at 11.47 GMT. These aftershock earthquakes were surpassed in magnitude by only one earthquake that measured 6,9 Richter and that occurred less than 1 ½ hour after the main event on 27 February.
The two earthquakes of 5 March 2010 occurred no more than 50 minutes to either side of the estimate period that Bevan said carried maximum tension, and there is no reason to assume that his calculations were anything but exact. After these two earthquakes it went quiet and there have been no other earthquake of yet to compare with this activity.
Entire Record of Earthquake Activity >5,5 Richter